This is one of my favorite modifications I've made to our new trailer so far.  To be fair, I got the idea off the Lance Owners of America forum.  While my work is specific to our 2015 Lance 2185 trailer, I suspect the mod would be similar in other models as they all seem to have this cabinet.
Lance ships their campers with a shallow "cabinet" that has a clock and two built-in magazine racks.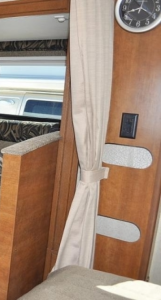 I've read a few posts where people store flashlights, batteries, tools, dirty laundry, and other random assorted items in them (though ironically nobody seems to actually use them to store magazines).  For us they just seemed like a waste of space, and while the Lance has a decent amount of cabinet space, as anyone who has ever lived out of a trailer or RV for a few weeks straight will tell you, there's never enough cabinet space.
Since the inside of each cabinet section was about 12″ what I decided to do was move the curtain, take a circular saw, and cut out the front of the cabinet wall, opening up the space.  In preparation I purchased a 10 1/4″ wide x 26 1/8″ tall cabinet door from Lance for $45 (the same cabinet that is above the sofa/bed), and some miscellaneous antique bronze hinges and handles from Amazon.  The staff at Lance helpfully looked up the cabinet door information – apparently it is part # SD524A4 for my model.  Manufacturing took 2-3 weeks, and after a total of about a month the door arrived.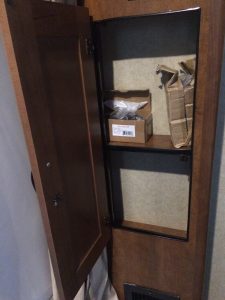 Once the door arrived I broke out the battery-powered saw and went to town.  The cabinets are 1/2″ think, so to avoid mangling the shelf I set my blade depth to just barely over 1/2″.  It turns out the shelf screws into the front of the cabinet, but I was able to pry the front off and some needle-nose pliers made quick work of the screws poking out.
To cover the cuts I made, I purchased some 1/2″ wide U-mounting from T-moulding.com, and glued them to cut edges.  The molding creates a small lip which made the door want to pop open, so I cut a small piece of excess molding to create a shim for under the hinge.
In the end the door fits nicely and seems like it should hold anything we put in it,
even while bouncing around on the road.  I left a lip on the bottom of the cabinet so that anything I put in it won't slide out, though when I finish converting the TV cabinet to a pantry I will likely use the positive-close strut from another cabinet on this one, just to be sure.
As to what to put into the cabinet, the bottles of rum, whiskey, and tequila should fit nicely on that bottom shelf.